Electric-power Drayson B12 69/EV Le Mans prototype reached 204.185 mph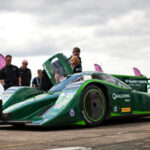 Alternative fuel vehicles are chewing up the racetrack. A modified Le Mans car from Drayson Technologies with electric drive set an EV land speed record of 204 mph. Earlier in the week, Audi again won the 24 Hours of Le Mans endurance race driving a diesel hybrid car that bested most of the competition on efficiency and fewer pit stops. Audi has now won Le Mans six times since 2006 with diesels, including the past three years with diesel hybrids. Jaguar is concocting a hybrid supercar with 850 hp, almost half of that from electric motors. If "race on Sunday, sell on Monday" still has traction, the success of alternative propulsion in competition and limited production vehicles may jump start mass production EVs, hybrids, and diesels.
In the UK, an electric-power Drayson B12 69/EV Le Mans prototype reached 204.185 mph or 328.6 kph at a track at the Royal Air Force Elvington base in Yorkshire. The previous best was 175 mph set by a Battery Box General Electric car in 1974. To qualify for the FIA (Federation Internationale de l'Automobile) record book, the Drayson car had to weigh less than 1,000 kg (2,204 pounds). The team led by Paul Drayson, a Labor Party politician who founded Drayson in 2007, removed the car's bio-ethanol engine and swapped in a light 20 kWh battery and electric motors producing 850 hp.