Prius became the No.1 selling car or light truck in California last year, topping perennial winners like the Toyota Camry and Ford F-150 pickup. Toyota's iconic gas-electric vehicle jumped to the top spot from No. 4 in 2011, a surge fueled in part by the introduction of three new Prius models.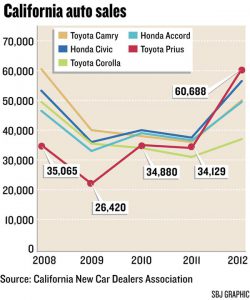 At least one East Coast stereotype about California may be on the mark: we love our hybrid cars — especially the Prius.
The Prius is gaining elsewhere in the United States as well. But it is far less popular, ranking No. 14 nationally in 2012. More than a quarter of U.S. Prius sales are in California.
While electric vehicles and hybrids such as the Prius still account for only a small fraction of overall sales — 7.5 percent in California and 3 percent nationally — they have made their mark on the auto retail business: Other auto makers are scrambling to replicate Toyota's success. And sales people must learn new technology to keep up with buyers who are well-versed in gas-electric hybrid engines.
Most consumers today know what they want when they arrive at any dealership. Hybrid buyers are especially likely to have thoroughly researched their intended purchase.
"It's a pretty easy sell," said Steve Maita, general manager of Maita Toyota.
Rene Larsen, Folsom Lake Ford's internet director and the dealership's resident expert on hybrids, said sales people have to know a lot more about each vehicle line than ever before. Ford makes hybrid models of its Fusion sedan and last year introduced its C-Max hybrid in the United States.
The Folsom Lake Ford sales staff also encourages customers to compare by driving Prius and one of Ford's vehicles, Larsen said. The dealership says its cars provide a quieter ride with similar gas mileage.
"In the past you could say, 'This is the right car for you' and they'd say, 'OK,' " he said. Now "if you don't know your product, you could find yourself in trouble. They test us all the time."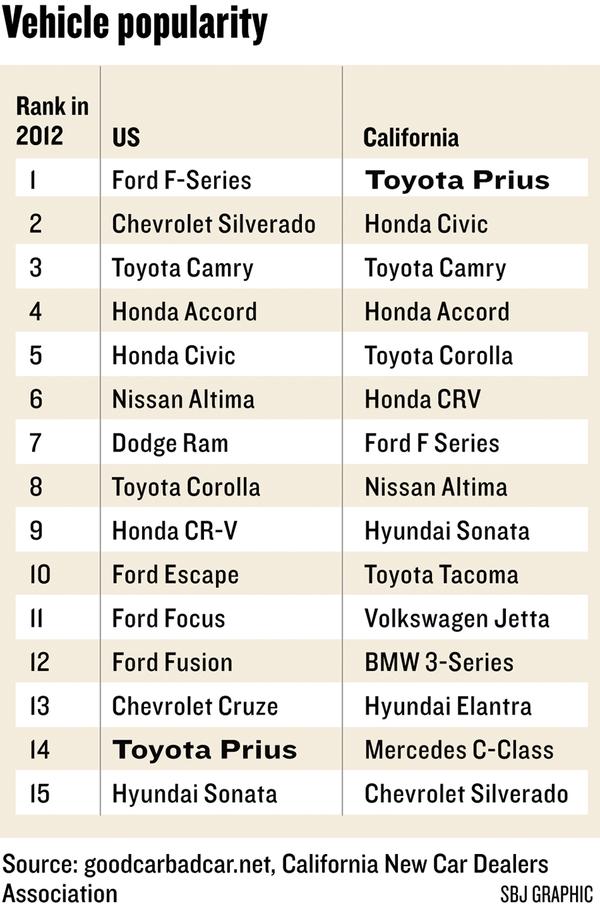 No longer for tree-huggers
Experts caution that hybrids and electric vehicles have a long way to go before they are as popular as traditional gas guzzlers.
"The market acceptance of these vehicles is still dramatically lower than the buzz they create," said Jesse Toprak, an analyst for TrueCar.com.
Even California — for all the stereotypes about granola and Birkenstock sandals — is far short of goals it must reach in coming years to meet state emissions requirements.
In 2025 manufacturers making cars for sale in California must ensure that 15.4 percent of their fleet are zero-emission vehicles, or roughly one out of six cars, said Brian Maas, president of the California New Car Dealers Association.
It has taken about a dozen years of hybrid sales to exceed 7 percent of the market in California — and sales of true zero-emission vehicles such as electric cars have grown even less quickly. So reaching that goal in a dozen years "will be nearly impossible," he said.
But the Prius, which starts at $24,200, has been able to make the rare transition from being a vanity product for environmentally conscious consumers to a success in the mass market, experts say.
The buyers of Prius and other hybrids are no longer just save-the-earth people. In California, the Prius is seen in driveways in every kind of neighborhood. It and other hybrids — including plug-in hybrids, which have larger batteries than a standard hybrid and can draw much of their energy from the power grid — also are popular choices of government, utilities and corporations, say local dealers and other experts.
The Prius and hybrids in general especially are popular in the Golden State because Californians tend to be concerned with the environment and spend a lot of time in traffic, Toprak and other experts said. California also has stricter emission standards and higher gas prices, helping to fuel interest in alternatives to gas-only vehicles.
"California is the best market for Prius in the world by far," Toprak said.
Buyers see practical benefits
Several factors are driving the growth. Among them: Toyota broadened the market beginning in late 2011 by adding three additional Prius models. The Prius v is a wagon, larger than the standard sedan; the Prius c is smaller; and a third is a plug-in hybrid.
Also, public agencies and large companies that need fleets have found the Prius a good choice both for cost-saving practical reasons as well as for the marketing advantage of showing they are reducing their carbon footprint.
In April, the city of Sacramento agreed to spend $1.1 million over three years collectively with Downtown Ford and Hansel Toyota in Petaluma to buy C-Max and Prius vehicles to replace the three-wheel scooters currently used by parking enforcement.
Whenever it is cost effective, the city tries to replace its petroleum vehicles with sustainable vehicles, said Keith Leech, the city's fleet manager. Currently, the city has about 40 hybrids — the Prius and the Ford Escape hybrid — used in parking enforcement and by utility meter readers.
The number of hybrid vehicles in Sacramento has significantly grown just in the path a few months. And the Sacramento Municipal Utility District has 60 electric and hybrid vehicles in its fleet of 830 vehicles, said spokesman Dace Udris-Peralta.
Meanwhile, gas prices remain a sore point and mileage continues to be a focus for consumers, government and business. The U.S. Environmental Protection Agency rating for a standard Prius is 50 mpg.
Besides saving money, high gas mileage saves time. "People hate going to gas stations," Toprak said.
Little perks add to the appeal as well — such as being able to drive in the carpool lane with the Prius plug-in, or using a favored parking spot with built-in recharging station.
But other benefits have lapsed in recent years. Government rebates, for example, now apply to only a fraction of the vehicles. The state of California offers rebates only for plug-in hybrid, electric and fuel-cell vehicles. And regular hybrids no longer qualify for stickers allowing a single driver to use carpool lanes.
But the lure of advanced technology provides a reward for many drivers, and that makes up the difference.
Dan Fisher, an information technology manager who lives in Sacramento's Hollywood Park neighborhood, has been driving a Camry hybrid since 2007.
"I like new technology, and with a hybrid you get much more feedback about how your driving style results in your gas usage," he said in an email. "I love how quiet they are, no engine idle wasting gas when stopped, and driving a lot of miles (20,000 a year), the gas savings have actually added up quite a bit."
A triumph of branding
Success of the Prius has put pressure on other manufacturers to roll out their own hybrids. Now all the major carmakers offer hybrid versions of many models, from the Ford Focus to the Mercedes-Benz S-class.
"It's not like Toyota has a lock on the technology anymore," said Mark Rechtin, West Coast editor of Automotive News. But, he added, "From the branding perspective, they still do."
Other carmakers now offer hybrids and gas versions of the same branded car. Prius remains a hybrid-only brand. For its first decade, Prius also was a single vehicle, maximizing the virtues of a simplified brand identity.
Only after its dominance was established did Toyota roll out other versions, allowing it also to capture buyers demanding a small, large and plug-in option.
It is "pretty much mass market now," Rechtin said. Toyota's Prius, he added, is "one of the great marketing and branding strategies for the century so far."
How long Prius can maintain its dominance is uncertain, or which hybrids will expand their market share, experts say. Much depends on gas prices. If gas prices stay where they are, penetration of the market won't increase all that much, said Tom Libby, senior forecasting analyst for Polk, the Smithfield, Mich.-based auto data and marketing company.
The Prius will continue to be the dominant hybrid for the next couple years because of its existing share of the market and its image, he said. Further out, "their share will almost inevitably go down."
If gas prices escalate, hybrid sales likely will dramatically increase. But it's anyone's guess whether Prius will continue to capture the lion's share of hybrid sales or if other brands might shake up the market.
The "first serious direct-facing competition" to come to the market is the Ford C-Max, a hatchback available in a hybrid and a plug-in hybrid, Libby said. It was built as a direct competitor to the Prius, with similar size, fuel economy and price. It will take some business from Prius, but the shift won't be dramatic, Libby said.
by Kelly Johnson, Sacramento Business Journal
At GreenTec Auto we sell rebuilt high voltage (HV) Batteries for Toyota Prius and other cars. We offer free shipping and 4-year Unlimited Mileage Warranty on selected hybrid batteries.
We use good, tested cells from newer battery packs, making sure our re-manufactured high voltage batteries work properly and efficiently. Our hybrid batteries are in a lot of ways better than the factory replacement batteries. These cells have been reconditioned through our proprietary processes and must pass durability testing before being placed in one of our battery packs