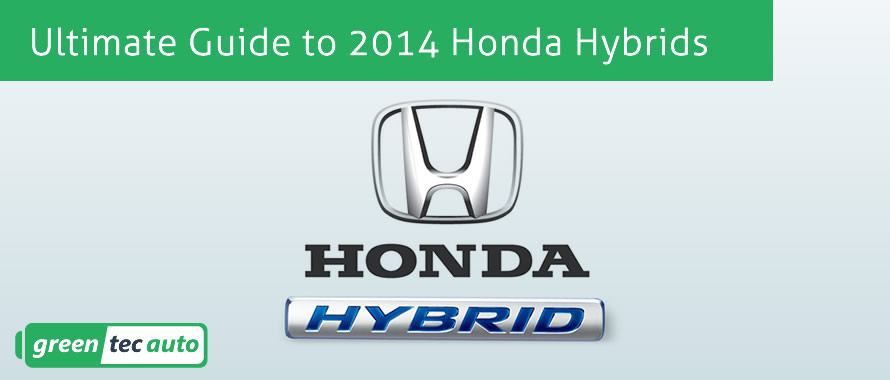 Japanese automaker Honda has been in the hybrid game from the very start, releasing the quirky, two-seat Insight back in 1999. Since then, the company has sold a variety of other hybrid models, and currently offers four to U.S. consumers. We've compiled reviews for each Honda hybrid to bring you a full guide to the current range.
2014 Honda CR-Z
35 City, 39 Highway, 37 Combined (CVT)
The Honda CR-Z is unique in being the only hybrid currently on sale with the option of a manual transmission. That's because Honda is positioning the CR-Z as an enthusiast's car, mixing the twin benefits of fun driving characteristics and miserly economy.
Honda CR-Z First Drive
Performance from the 1.5-liter hybrid-assisted engine may not set your heart racing, but the CR-Z is still one of the most fun hybrids to drive, and if you opt for the continuously-variable transmission, 37 mpg combined is within reach. Stick shift nets you 34 mpg combined.
The CR-Z's future is currently hanging in the balance. Low sales in Europe have led to Honda canning the model there, but it seems to be hanging on in the U.S--we're sure to find out its future in the next year or so, though.

2014 Honda Insight
41 City, 44 Highway, 42 Combined
Well, that's it then. Honda's flagship hybrid vehicle is ending production worldwide later this year, meaning no 2015 model will be available.
Owners like their Insights, but others see it as a missed opportunity--despite it being one of the cheapest hybrids on sale, some wish it had offered better economy and a little more performance.

Honda Insight drive report
A little more style and panache might not have gone amiss either. At a glance, those less familiar might mistake the Honda Insight for the more popular Toyota Prius. Each car shares the same streamlined shape, maximizing interior space while ensuring the vehicle is aerodynamically efficient.
The Insight is only a mild hybrid though, so can't achieve the same economy as the more advanced Prius. A fine budget choice, but few will be sad to see it go.

2014 Honda Civic Hybrid
44 City, 44 Highway, 44 Combined
For a while, the Civic Hybrid was the only car holding Honda's hybrid fort, but that load has was eased when the cheaper Insight and sportier CR-Z joined the range. Now, the Civic Hybrid is Honda's stalwart, not providing any excitement nor suiting those on a tight budget, but offering good mpg in a practical, reliable package.
Honda Civic Hybrid multi-day drive review
It uses a 1.5-liter gasoline engine with a mild hybrid system, comprising a compact electric motor between the engine and continuously-variable transmission.
Unlike the now-defunct Insight, Honda hasn't yet confirmed whether its long-running Civic Hybrid will stay or go--but we can't see it hanging around for too much longer, as more modern Honda hybrids emerge in Japan.

2014 Honda Accord Hybrid
50 City, 45 Highway, 47 Combined
The Accord Hybrid is the latest addition to the Honda hybrid range, and it's also the best.
That's mainly because it uses an entirely new hybrid drivetrain. Rather than the 'Integrated Motor Assist' mild hybrid system used in the CR-Z, Civic and Insight, a new "Intelligent Multi-Mode Drive" system pairs a 2.0-liter gasoline engine with a twin motor hybrid setup.
2014 Honda Accord Hybrid: First Drive Report
It's a full hybrid, with electric, hybrid, engine-only and power generation modes. The upshot is one of the most efficient vehicles on the road--50 mpg city, 45 on the highway and combined economy of 47 mpg. An Accord plug-in hybrid is also available, with electric efficiency of 115 MPG equivalent, 47 city, 46 highway and 46 combined in hybrid mode.
Honda Fit Hybrid
Honda has sold a Fit Hybrid for several years now in the Japan and European markets, but such a model has never been released in the U.S.
The old model used a drivetrain identical to that of the Insight, but Honda's latest Fit Hybrid is much more advanced, using the new i-DCD dual-clutch setup. You now get all-electric running in certain situations--though like its predecessor, there are no plans for the car in the U.S.
Honda Vezel Hybrid
What is a Vezel, you ask? It's a Fit-based crossover, and like the Fit, it gets a hybrid option in Japan.
The Vezel itself is coming to the U.S--perhaps badged HR-V--but the hybrid is still an unknown quantity. We're hoping Honda sees sense...
Source: greencarreports.com