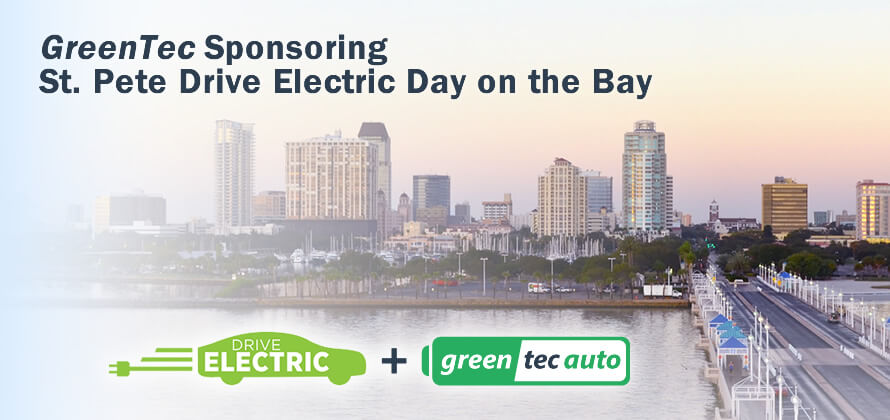 [dt_call_to_action style="3" content_size="big" text_align="left" animation="left" line="true"]
GreenTec Auto Sponsoring St. Pete Drive Electric Day on the Bay.
We're St. Petersburg bound![/dt_call_to_action]
[dt_gap height="20"]
We're excited to announce that we will not only be in attendance at the St. Pete Drive Electric Day on the Bay, but also supporting the event as a proud sponsor.
Electric vehicles from Chevrolet, BMW, General Motors, and Tesla will join a rally of custom-made cars and prototypes on Saturday, September 12th for St. Pete Drive Electric Day on the Bay. Local dealers will provide test-drives and rides on a two-mile stretch along the waterfront. The event is from 10 am to 4 pm at Spa Beach Park in downtown St. Petersburg, Florida and is part of National Drive Electric Week.
From St. Pete Drive Electric Day On the Bay: "Tampa Bay-area electric vehicle owners are invited to display their vehicles as part of an EV Rally. Electric vehicles of all kinds may join the rally including cars, trucks, motorcycles, bicycles and golf carts; vendors are being sought such as manufacturers of supportive electric and solar components and technology; organizations, clubs and hobbyists with an interest in electric and hybrid vehicles; clubs and community groups; county and city agencies. Food trucks will be on hand as well as exhibits and displays promoting EVs, clean energy, and sustainable products and services. Admission is free."
[dt_gap height="20"]
Day:
Saturday, September 12, 2015
Time:
10:00 am - 4:00 pm
Location:
Spa Beach Park
615 2nd Ave. N.E.
St. Petersburg, FL 33701
National Drive Electric Week, September 12-20, 2015, is a nationwide celebration to heighten awareness of today's widespread availability of plug-in vehicles and highlight the benefits of all-electric and plug-in hybrid-electric cars, trucks, motorcycles, and more. They are fun to drive, are less expensive and more convenient to fuel than gasoline vehicles, are better for the environment, promote local jobs, and reduce our dependence on foreign oil. Are you considering going electric? Come talk to owners who have successfully done so.