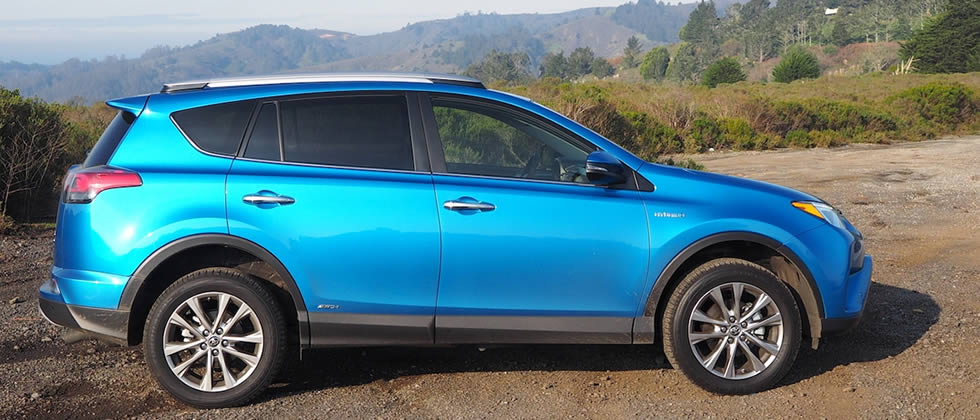 2016 Toyota RAV4 Hybrid

Compact sport utility vehicle
MPG:

34 city / 31 highway

MSRP:

From $28,370

Towing capacity:

1,750 lbs

Horsepower:

194 hp

Engine:

2.5 L 4-cylinder
CONFIGURATONS
XLE
$28,370
Limited
$33,610
Toyota sure loves its hybrids, but while the Prius might the best known of the Japanese firm's holier-than-thou electrified cars, its SUVs haven't escaped either. The 2016 Toyota RAV4 Hybrid shares the new look of its gas-only siblings, but adds some a pair of electric motors for considerably better economy.
Design-wise, Toyota has given the 2016 RAV4 a more aggressive appearance. Face-on, the lights are more angular and the bumpers fuller; from the rear, it's sturdier and there's thankfully less black plastic than the outgoing car.
It looks, frankly, more like a truck, which is apparently just what Toyota was aiming for.
Since the Lexus NX300h already has a perfectly good SUV hybrid system, Toyota borrowed that rather than recreate the wheel. It combines a 2.5-liter four-cylinder gas engine with two electric motors, and a CVT transmission. It adds up to 194 horsepower and 206 lb-ft. of torque.
The RAV4 Hybrid is all-wheel-drive, though Toyota funnels power to the wheels differently depending on road conditions. The gas engine and one of the electric motors drive the front axel; the second motor drives the rear axel, physically unconnected with what's going on up-front.
That allows for more flexibility and thus better economy: most of the time it's just the front doing all the work. EPA economy figures come in at 34 mpg in the city and 31 mpg on the highway.
All that extra hardware adds heft, mind, and the 3,585 lb curb weight is not inconsiderable. The RAV4 Hybrid doesn't do much to disguise it, either, and you notice it in the corners. As a result, the SUV feels planted but hardly enthusiastic.
That attitude continues throughout the driving experience. Toyota quotes an 8.1 second 0-60 mph time, but there's no surge of electric eagerness; better, I found, to try to see how long I could keep it running in electric-only mode (you can force it by hitting the EV button, but that's cheating and I will have you disqualified from my competition).
Officially it'll go to around 25 mph on the electric motors alone, complete with the now-familiar Toyota EV whine, but anything more than the lightest of right feet will rouse the gas engine. Toyota opted for a simple analog gage to show what stage the drivetrain is at, though I missed a more comprehensive insight into what power was flowing where.
On the go, the CVT slurs politely, though can be coaxed into mimicking seven faux-ratios in Sport mode. Both the front and rear motors are called upon for regenerative braking; the brakes are effective but require a firm press, which can be a little disconcerting.
All the same, with a mixture of highway and urban driving, including attempting to get the RAV4 Hybrid to show some eagerness around more enthusiastic roads in Sport mode, I saw 32 mpg. That's pretty impressive for the segment: most gas-only compact SUVs will drop into the 20s in general use.
Inside, the RAV4 is spacious and comfortable, with plenty of room both upfront and for rear-seat passengers. Ride is quiet and smooth, and there's pleasingly little cabin noise compared to the old model. The trunk is spacious and lacks an intruding lip that might get in the way of loading, while the rear seats fold down - with a 60/40 split - for even more capacity.
35.6 cubic feet seats-up, and 70.6 cubic feet seats down, are numbers not to be sniffed at, even if the battery pack has intruded a little compared to the regular car and doesn't allow the seats to fold completely flat. Toyota's extending cargo cover can be hidden under the floor when not needed, though it's a fairly fiddly process.
The dashboard looks the part, for the most part, with its seat-matching stitched panels, but allow your fingers to stray from those padded parts and the remainder feels plasticky to the touch.
Toyota's Entune infotainment system is showing its age, lacking in either CarPlay or Android Auto, while the company's own smartphone apps feel clunky in comparison to what Apple and Google are doing. Happy all the physical controls fall to hand relatively intuitively, you get an actual knob for adjusting volume, and the HVAC system is straightforward.
The bank of buttons and toggle switches for things like EV mode and the heated seats are lower down than I'd prefer - it'll take some getting used to before you figure out where to reach by memory alone - but they feel sturdy. Unfortunately, the expanses of molded plastic around the cheap-feeling shifter don't feel the part in what's not an inexpensive car.
That's because Toyota is only offering the top two specifications of RAV4 as hybrids, the XLE starting out at $28,370, and the Limited I reviewed, from $33,610. You're looking at a $2,100 premium for the electrification, therefore.
The XLE gets 17-inch wheels, a power lift-gate, moonroof, keyless start, dual-zone climate control, and relies on a connected app for navigation. Step up to the Limited, and you get 18-inch wheels, projector-beam LED headlamps, and Toyota Safety Sense P as standard, along with navigation and SiriusXM, blind-spot monitoring, and SofTex faux-leather seats.
When it comes to electrification, today's hybrids seemingly take one of two paths. Either the EV components are introduced for the jolt of instant torque they offer, making a gas-powered car more enthusiastic, or they're a more wholesome affair for those who're looking for better economy and a minor green halo.
The 2016 RAV4 Hybrid falls heavily in the latter category, though while eager drivers won't find much in the way of entertainment, those in the market for a flexible, capacious, and fairly refined SUV without prodigious thirst will likely find much to satisfy them.
About GreenTec Auto
GreenTec Auto is a family owned and operated business specializing in rebuilding hybrid batteries. Originally based in the Sacramento, California area since 2009, GreenTec Auto has expanded to nine shops around the United States. Combined with 35 years of general automotive experience, GreenTec Auto knows your hybrid vehicle from the end to end. For more information, visit www.greentecauto.com.