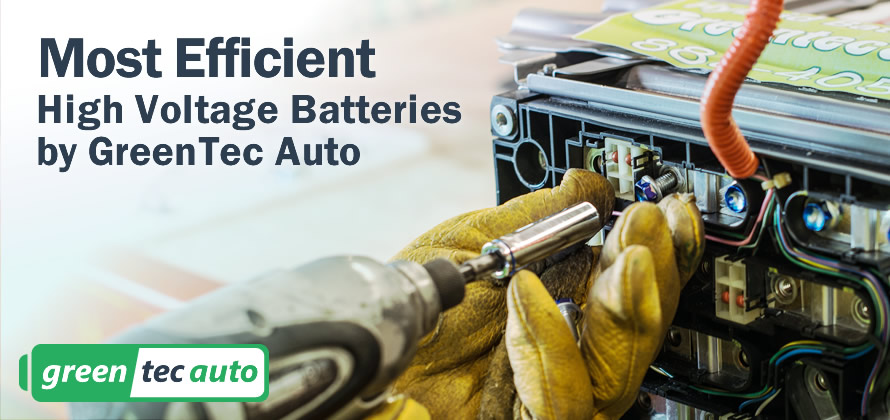 [dt_call_to_action style="3" content_size="big" text_align="left" animation="left" line="true"]
Increase performance of your hybrid vehicle and maximize fuel economy by replacing high voltage battery remanufactured by GreenTec Auto.[/dt_call_to_action]
[dt_gap height="20"]
SACRAMENTO, CA -- GreenTec Auto offers quality high voltage batteries and also technicians who have the expertise in installing and repairing hybrid batteries.
[dt_gap height="20" /]
Green Tec Auto
Hybrid cars are not only in demand but are also quite pocket-friendly. But people who have them often find it difficult to find a provider which sells premium quality batteries for such hybrid cars. For such hybrid cars, GreenTec Automotive rebuilds high voltage batteries. Be it Toyota Prius, Toyota Camry Hybrid, Honda Civic Hybrid and Nissan Altima. Getting a reliable battery from a trusted service provider is going to be a great thing for all the people who love to drive their hybrid cars. The entire process of manufacturing the high voltage batteries is very efficient. Efficiently tested cells are taken from new battery packs so that the newly manufactured high voltage batteries work perfectly fine.
[dt_gap height="20" /]
GreenTec Auto is a company which is owned by a family and run by the members. It is based in Sacramento CA and since long, the company has been repairing many hybrid vehicles. The operations are extended to eight other locations in the United States. The professionals of GreenTec Auto have complete knowledge of the hybrid vehicles and batteries and so, no one else can repair them better than this company. Hybrid cars are a little different from the other cars and hence only the experts should be contacted in case there is any problem. Many people complain that when they get their hybrid cars repaired from the unprofessional ones, they have to face some or the other problem. GreenTec Auto undertakes everything related to a hybrid car be it changing the battery, oil change, etc.
[dt_gap height="20" /]
High Voltage Batteries
High Voltage Batteries are one of the most important things for the hybrid vehicles. If the battery does not function properly, the mileage and the performance of the vehicle goes down and no car owner wants that to happen. Different cars might get affected in different ways when the battery is performing poorly. Anyone who is looking to buy a hybrid battery can check the available options which are offered by GreenTec on the website www.greentecauto.com. Based on the car for which the battery is required, one can pick the one which is appropriate. For every car, there are at least two to three options of the hybrid batteries. Each product comes along with a complete description about it and also the cost at which it is available.
[dt_gap height="20" /]
Hybrid Car Experts
No one knows when a situation might arise where the battery stops working. Well, in such circumstance, there is no need to worry. GreenTec Auto also offers services of mobile installation so that the safety of the customer is never compromised. The rates of the company are very genuine. It sells excellent quality batteries at the most reasonable rates. GreenTec has a team of talent hybrid car experts which can easily figure out the problems with the car and the battery. There has to be someone who can guide people about handling the hybrid car and no one can do it better than GreenTec Auto.
[dt_gap height="20" /]
The highly trained technicians from the company work dedicatedly to offer the best level or services and also guide the customers about the most appropriate hybrid batteries for their cars. The work of the professionals from GreenTec does not end after installing the battery into the car. In case there are some issues after installation, one can always contact the team and they will surely offer their assistance to the customer. This is one place where one can find quality high voltage batteries and also technicians who have the expertise in installing and repairing them. The installation is done without wasting much time and so, individuals who avail the services offered by GreenTec Auto can always be at ease.
[dt_gap height="20" /]
Hybrid Battery Warranty‎
All the high voltage batteries with new cells sold by GreenTec Auto come with a 3-year warranty. The quality of the product and related services offered by the company is never compromised. The warranty is transferable and it can be done along with the copy of the bill of the sale of the vehicle. In case there are any issues with the battery, it is replaced with a new one and the remaining warranty period gets transferred to the new battery. So, with a service provider like Green Auto maintaining a hybrid car is never going to be problematic.
[dt_gap height="20" /]
The team of GreenTec Auto guides the customers regarding the most suitable battery option for their vehicle. No everyone is aware of the various types of batteries which are available in the market and which one is the most suitable one for use. So, one can contact the hybrid battery experts when it is anything related to the high-voltage batteries for the hybrid cars. Every customer deserves to get the best product at the price which he or she is ready to buy. GreenTec Auto offers hybrid car batteries which are not only good in performance but also very budget friendly.
[dt_gap height="20"]