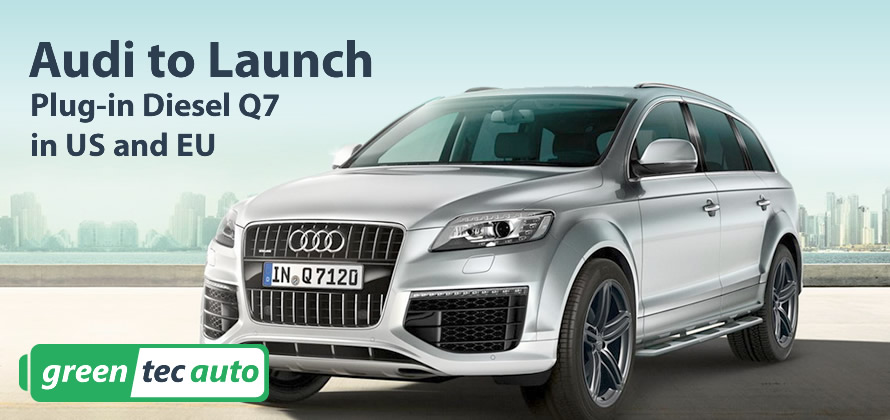 [dt_call_to_action style="3" content_size="big" text_align="left" animation="left" line="true"]
Audi believes plug-ins are the best solution for low-emission vehicles because they don't face the same range constraints as battery-powered vehicles. The development of a plug-in diesel hybrid gives Audi a technologically-advanced platform to counter the recent technological advances made by its German rivals.[/dt_call_to_action]
[dt_gap height="20"]
The Volkswagen Group is preparing to join Volvo among the ranks of automakers in Europe that offer a closer to mainstream plug-in diesel hybrid.
The VW Group made headlines last year with its exotic two-seater XL1, but now sources from inside Audi say that the next generation Audi Q7 will become a diesel PHEV. While the Q7 will initially be launched next year with gasoline and diesel powertrains only, the plug-in diesel will be offered the following year. And, the plug-in diesel will be offered both in Europe and the U.S., sources say, and will give Audi an edge in technology over rivals BMW and Mercedes-Benz. While both offer plug-ins they are mated with gasoline engines.
The Q7 will be the second plug-in diesel offered in Europe after the Volvo V60 wagon. The Swedish automaker debuted the car last year and has sold more than 10,000 units of the V60 variant.
[dt_gap height="20"]
[dt_quote type="pullquote" layout="right" font_size="big" size="2"]
A8 and Q7 would get a plug-in diesel variant but stopped short of confirming which model would be first. Drivetrain will combine a 3.0-liter V-6 diesel and an electric motor.
[/dt_quote]
This summer, Audi development chief boss Ulrich Hackenberg revealed the company's desire to beat its German rivals to market with a plug-in diesel. He said the A8 and Q7 would get a plug-in diesel variant but stopped short of confirming which model would be first. He said the drivetrain will combine a 3.0-liter V-6 diesel and an electric motor.
North Americans have continued to show a renewed interest in diesel engines. While the fuel efficiency advantages of diesel fuel has always been known, the high-sulphur emissions and dirty exhaust found with earlier diesel engines kept interest low. With the continued development of cleaner-burning engines and the refinement of low-sulphur diesel fuel and exhaust after-treatment, North Americans appear open to embracing the technology once again.
Hackenberg said Audi will also offer plug-in diesel variants in the U.S. although he did not say which plug-in diesels Audi will sell. He acknowledged that the combination of power and economy in the Audi plug-in diesel would make it popular in the U.S. market.
Audi CEO Rupert Stadler also is bullish on the powertrain. "We strongly believe in plug-in hybrids," Stadler said earlier this year during the launch of the A3 Sportback e-tron, the automaker's first plug-in hybrid, which combines a gasoline engine and an electric motor.
Audi believes plug-ins are the best solution for low-emission vehicles because they don't face the same range constraints as battery-powered vehicles. The development of a plug-in diesel hybrid gives Audi a technologically-advanced platform to counter the recent technological advances made by its German rivals.
With the introduction of BMW's i sub-brand, featuring the i3 electric car and the i8 plug-in hybrid supercars, and Mercedes' electronic innovations such as the Magic Body Control ride comfort aid and its semi-autonomous driving technology, Audi needed to bring some advanced fuel-efficient technology to the marketplace or risk falling behind.
Hackenberg said Audi's "decades of lead" in diesel technology has helped it cut CO2 emissions and increase sales. "Diesel will remain one of the core values in Vorsprung durch Technik; we are putting our money in it," he said, referring to Audi's "progress through technology" slogan.
[dt_gap height="30"][dt_fancy_separator separator_style="line" separator_color="default"][dt_gap height="30"]